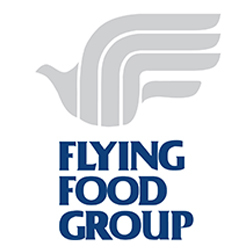 Food Service Preparer
Sorry, this job has expired.
Lawrenceville, GA
Health Insurance, Life Insurance, Dental Insurance, Vision Insurance, Disability Insurance, 401K / Retirement plan, Paid holidays, Paid personal time
Flying Food Service is currently seeking hot and cold Food Service Preparers.

Some of our benefits include:
• Health, Dental, Vision, Life, Disability Insurance
• 401(k)
• Sick time
• Holiday pay
• Paid Time Off (PTO)
• Free meals

As a Food Service Preparer you will:
• Follow established rules of each unit for entry to building and work areas, properly attired and In compliance with HACCP guidelines for personal hygiene.
• Observe security precautions as mandated by unit management.
• Read instructional charts or diagrams to determine amount and kind of foods and supplies to be packaged or assembled into trays or containers.
• Comply with all HACCP and Flying Food Group sanitation and proper food handling policies and procedures.
• Cut fruits/vegetables/meat using knives or slicing machinery in a safe manner to specified weights or sizes.
• Portion and garnish hot cooked foods, such as meat and vegetables, into individual serving dishes.
• Inspect dispensed items for contamination by foreign bodies.
• Properly return food for storage or dispose of unused food items or supplies to proper storage facility for future use with adherence to dating and rotation schedule.
• Remove pans or trays of portioned salads, desserts, rolls, cream, and other cold food items from refrigerator or pantry, and place at appropriate station for tray assembly counter/tables to facilitate assembly of meal trays.
• Store completed trays in airline storage carts or containers to be transported to airplane.

To perform this job successfully, you should be able to:
• Balance team and individual responsibilities.
• Follow instructions.
• Respond to management direction.
• Ask for and offer help when needed.
• Generate suggestions for improving work.
• Complete work in a timely manner.
• Consistently show up to work on time.
• Meet productivity standards.
• Observe safety and security procedures.
• Report potentially unsafe conditions.

You will regularly be required to:
• Stand and walk.
• Reach with your hands and arms.
• Stoop, kneel, or crouch.
• Lift and/or move up to 20-30 pounds.
• Be exposed to extreme cold (non-weather).

• Morning or afternoon shifts.

Join Flying Food Group and be part of a dynamic company, honored for steady growth, diversity, and exceptional service and products. Customers include over 80 of the world's leading airlines-primarily international-plus global retail brands. FFG provides multiple career possibilities at key gateway cities. The company's team-based structure offers employees mobility, and the chance to collaborate system-wide on meeting customer needs.

Click "Apply Now" to email us your resume.

We are an Equal Opportunity Employer.
8524