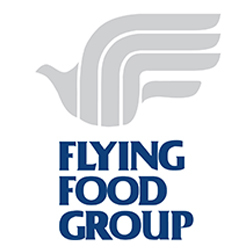 Class B CDL Airline Food Service Driver
Sorry, this job has expired.
Los Angeles, CA
Flying Food Group is currently seeking a Class B CDL Driver.

As a Driver you will:
• Load catering vehicle according to off loading specifications.
• Ensure airline is correctly catered and all equipment is in place.
• Load and unload aircraft in a safe and efficient manner.
• Off load vehicles at facility to ensure efficient processing of airline equipment.
• Verify meal carts based on flight configuration.
• Verify flight for completeness to ensure your carts are complete.
• Monitor temperatures of carts to ensure HACCP compliance.
• Work with dispatcher for airline times and flight schedules.

• Minimum 5 years of experience in field operations.
• Airlines experience is a plus.

• Good understanding of aircraft galleys and in-flight catering is a plus.
• Customs seal requirement and TSA.

• Drive safely to ensure no accidents occur.
• Follow airport transportation driving rules for speed limits and safety.
• Conduct vehicle checks to ensure proper maintenance of vehicle.
• Report all vehicle repairs on transportation log and to management.
• Ensure proper operation of vehicle when loading and unloading aircraft.
• In-house flight verification only.

• Bilingual skills in Spanish & English required.
• Ability to work as a team member.
• Ability to lift, push, and pull at least 50 lbs.
• You must be able to work flexible hours, any day of the week.

Join Flying Food Group and be part of a dynamic company, honored for steady growth, diversity, and exceptional service and products. Customers include over 80 of the world's leading airlines-primarily international-plus global retail brands. Flying Food Group provides multiple career possibilities at key gateway cities. The company's team-based structure offers employees mobility, and the chance to collaborate system-wide on meeting customer needs.

Apply now to submit your resume for consideration!

EOE

12012