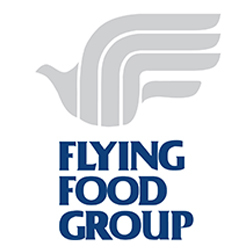 Class A or B CDL Airline Food Service Driver
Schiller Park, IL
Flying Food Group is currently seeking a Class A or B CDL Driver.

As a Driver you will load the catering vehicle according to off loading specifications.

To drive for us you must:
• Possess a Class A or B CDL.
• Be able to speak, read and write fluently in English.
• Be able to lift, push and pull at least 50 pounds.
• Be able to work flexible hours and overtime.

• Minimum 5 years of experience in field operations.
• Airlines experience is a plus.
• Good understanding of aircraft galleys and in-flight catering is a plus.
• Customs seal requirement and TSA.
• Bilingual, Spanish & English preferred

• Ensure airline is correctly catered and all equipment is in place.
• Load and unload aircraft in a safe and efficient manner.
• Off load vehicles at facility to ensure efficient processing of airline equipment.
• Verify meal carts based on flight configuration.
• Verify flight for completeness to ensure your carts are complete.
• Monitor temperatures of carts to ensure HACCP compliance.
• Work with dispatcher for airline times and flight schedules.
• Drive safely to ensure no accidents occur.
• Follow airport transportation driving rules for speed limits and safety.
• Conduct vehicle checks to ensure proper maintenance of vehicle.
• Report all vehicle repairs on transportation log and to management.
• Ensure proper operation of vehicle when loading and unloading aircraft.
• In-house flight verification only.

• Bilingual skills (Spanish & English) preferred.
• Ability to work as a team member.
• Ability to lift, push, and pull at least 50 lbs.

Join Flying Food Group and be part of a dynamic company, honored for steady growth, diversity, and exceptional service and products. Customers include over 80 of the world's leading airlines-primarily international-plus global retail brands. FFG provides multiple career possibilities at key gateway cities. The company's team-based structure offers employees mobility, and the chance to collaborate system-wide on meeting customer needs.

Complete "Apply Now" being sure to include a valid email address and daytime phone along with uploading your resume for consideration!

Disclaimer: The above information on this description has been designed to indicate the general nature and level of worked performed by employees within this classification. It is not designed to contain or be interpreted as a comprehensive inventory of all duties, responsibilities and qualifications required of employees assigned to this job.

EOE
15731