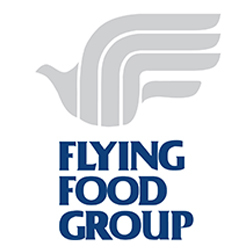 Airline Food Service Cook
Newark, NJ
Flying Food Group is currently seeking an airline Food Service Cook in the Newark, New Jersey, area.

Being bilingual (Spanish/English) is preferred, but not necessary.

• High school diploma or equivalent.
• Minimum 2 years of supervisory experience in high volume cooking institution/airline catering.

• Strong understanding of HACCP requirements, and ability to lead/supervise employees.
• Must read and write English fluently & be able to follow recipes.
• Culinary certification is preferred but not necessary.

• Supervise, organize, and participate in the effective preparation of high-quality meals for all FFG customers and employees.
• Responsible for all facets of daily hot food production including presentations for airlines, maintenance of daily requisitions, production sheets, and monthly updates.
• Responsible in ensuring production requirements for daily meal counts are met and control over production and portion controls.
• Accurately follow all recipes and prepare high-quality food.
• Ensure all cooked products meet customer & FFG specifications and are prepared on time.
• Ensure compliance with personal hygiene, sanitation, and food handling procedures.
• Assist in the development and training of lower level cooks/associates.
• Ensure proper communication with others departments.
• Support in maintaining equipment and usage.

• Ability to work without supervision and multi-task.
• Ability to prepare complex, detail-oriented dishes.
• Good organization skills.

Join Flying Food Group and be part of a dynamic company, honored for steady growth, diversity, and exceptional service and products. Customers include over 80 of the world's leading airlines-primarily international-plus global retail brands. FFG provides multiple career possibilities at key gateway cities. The company's team-based structure offers employees mobility, and the chance to collaborate system-wide on meeting customer needs.

Click "Apply now", upload your resume, and include a valid email address and daytime phone number for consideration!

Disclaimer: The above information on this description has been designed to indicate the general nature and level of worked performed by employees within this classification. It is not designed to contain or be interpreted as a comprehensive inventory of all duties, responsibilities and qualifications required of employees assigned to this job.

EOE

13743