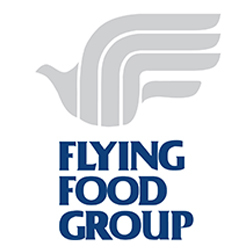 Airline Food Service Cook
Sorry, this job has expired.
Sterling, VA
Join Flying Food Group and be part of a dynamic company, honored for steady growth, diversity, and exceptional service and products. Customers include over 80 of the world's leading airlines-primarily international-plus global retail brands. Flying Food Group provides multiple career possibilities at key gateway cities. The company's team-based structure offers employees mobility, and the chance to collaborate system-wide on meeting customer needs.

We are currently seeking an airline Food Service Cook in the Sterling, VA area.

• High school diploma or equivalent.
• 1 year food prep / cooking background
• Must speak, read, and understand English.
• Must be able to lift over 60 pounds.
• Must have good attendance record and be on time.
• Must be able to stand and move around most of the day.

• Assist with preparing all food and meals for airlines and employee meals and charters.
• Read and follow all FFG recipes correctly and provide correct proportions.
• Complete prep work as directed by management and Executive Chef.
• Use all cooking equipment properly and safely.
• Follow FFG sanitation procedures to keep kitchen area and equipment clean.
• Maintain high standards of sanitation, hygiene, and food handling procedures.
• Report safety hazards and accidents to management immediately.

• Good communication skills.

Click "Apply now" to submit your resume for consideration!

EOE

12746